pro shield technology paint protection film
pro shield Paint Protection film is a high performance paint/surface protection film 6 micrometres thick. With ultra-clear, high gloss properties, our car paint protection film is nearly invisible once professionally installed. Known as PP6, this highly conformable car paint protection film requires few relief cuts. It will never turn yellow and will keep the exterior of your vehicle protected and looking sleek – backed by a 5 year warranty.
      Paint Protection Benefits   
Eliminates paint chips and damage caused by stones, bugs or abrasion-
Does not damage vehicle finish-
Conforms to any curvature – few relief cuts are needed-
Invisible once professionally installed-
Can be waxed or polished-
Removable if needed-
Easy-to-apply – will not scratch during installation-
Good adhesion to paints and a variety of other substrates-
5 Year Warranty-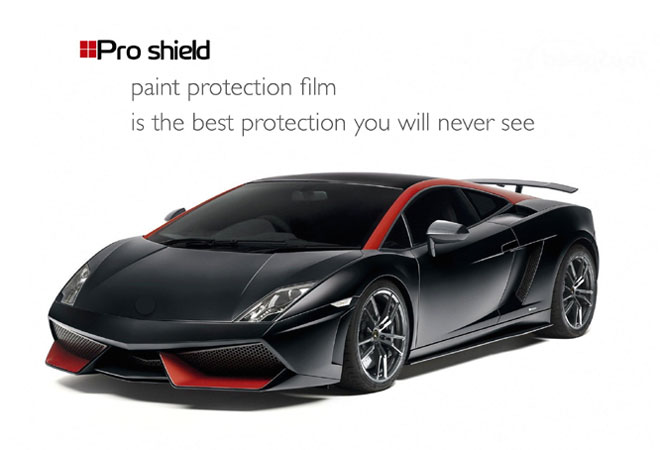 Pro shield® is the best protection you will never see.
Your vehicle: it's more than your ride - it's a source of pride. Why worry about paint chips, scratches and stains? With proshield paint protection film you'll have peace of mind knowing your vehicle will look like new for years.
How it Works
proshield is a tough, clear barrier that acts like body armor for your paint. It's an invisible layer that helps protect your paint against chips, scratches and stains caused by road debris, insects and more. proshield comes in a 60 inch width providing complete and seamless coverage of entire hoods or you can just cover the portions of your vehicle that you are most concerned will sustain damage.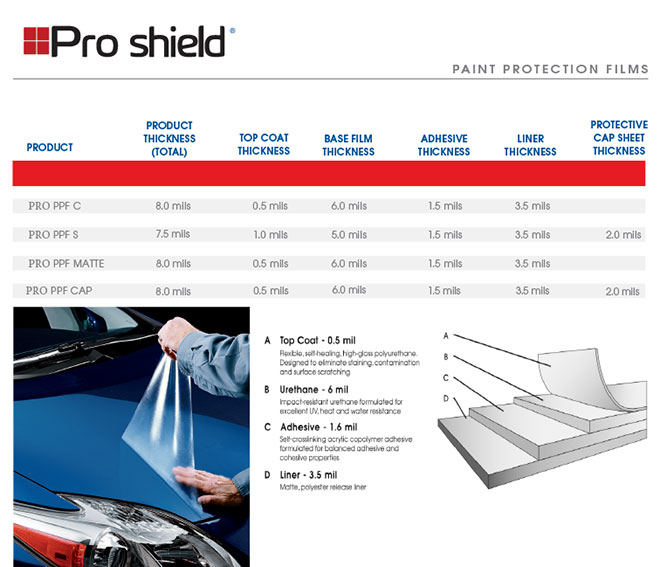 Professional Quality - Professionally Installed
proshield dealers are experienced professionals using the highest quality paint protection film available. Their installation expertise, combined with the precision of the ComputerCut system, ensures form-fitted perfection for your total satisfaction.
A car's paint job is one of its strongest eye-catching attributes, but one of the first things to show wear and aging. The latter is not an option for vehicle enthusiasts and those with high-value sports cars. To protect your vehicle, proshield's Premium Self-Healing Paint Protection Film delivers high-value surface protection to a vehicle's paint and body and comes complete with a five-year warranty. Its combination of proprietary design features and long-term benefits make this a superior choice in the PPF market.
proshield's Self-Healing PPF is highly stretchable, which means easier installs with fewer relief cuts and less chances for edges to be damaged. It also allows for removal and re-installation by professionals with little to no loss of material or quality.
With a high-gloss finish, proshield's PPF can often improve the shine of a vehicle's paint simply with its installation onto the vehicle body. In fact, while some PPF's can yellow over time or add unsightly tints to an existing paint job, this product is nearly invisible and color-neutral. Its topcoat is also scratch resistant, and its unique self-healing properties can reset the surface, should it receive any scratches, through environmental heat (e.g. sunlight or engine temperature) or warm water.
Maintenance is yet another strength of proshield's film, for it resists discoloration when exposed to colored waxes and soaps. It even withstands paint thinner with no side effects, Finally, in extreme weather conditions, this PPF will not yellow, bubble, or crack for the length of the warranty.
For an exciting piece of technology that also protects the resale value and incredible style of an automobile, proshield's Premium Self-Healing Paint Protection Film is a no-nonsense product that is easy to maintain, and gives vehicle enthusiasts the ability to enjoy their vehicle on virtually any road.